D type overview:
Front view showing control console in standard fixed position. Panels feed left to right.

Left and right doors open for total access.

Front and rear doors open with the exit air table in the up position, allowing all round access to the solder sump, transmission and air knives.
Rear view showing optional cooling module at the Alchemy exit.
View of the roller drive transmission assembly. The inner canopy has been moved to the left, exposing the oil manifold assembly, providing access to the solder manifolds and transmission rollers.
Notice the upper and lower air knife adjustment linkage. This is connected to a servo drive motor for automatic adjustment of air knife offset and gap. The upper air knife hinges, permitting operator access for cleaning the upper and lower tips.
Complete solder coat section showing the exit air table in the operating position.
The exit air table comprises a stop gate, and a support roller/overhead air knife, which accelerates the panels into the post treatment system.
Rear view exposing the main auxiliary enclosures for the air knives and sump heaters. The sump is fitted with external heating elements. The air knives have integral heat exchangers.


View of the solder/oil sump, including drives to the oil and solder pumps (drive belt guards removed).


View of the upper air knife in the hinged position for cleaning.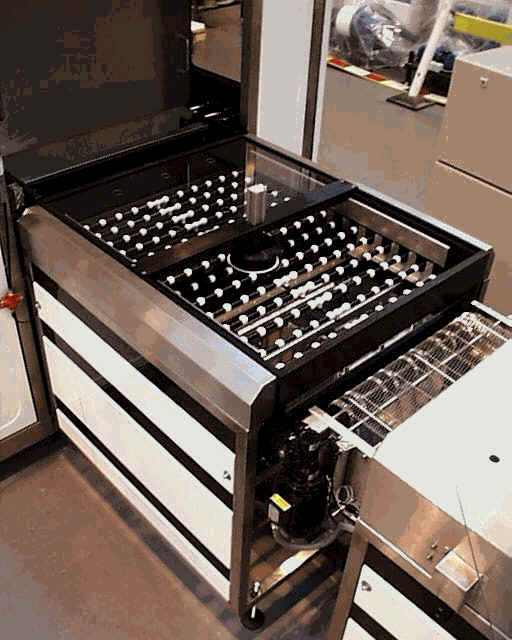 Align/Rotate module. The panel is centralised across the conveyor prior to being raised and rotated at 45 degrees. An upper retaining pressure pad holds the panel securely during the rotate cycle.
ALCHEMY 'D' BENEFITS
Designed for future lead-free operation

Excellent all round access

Minimum maintenance

Compact footprint

Low capacity solder pot

Combined power console and electrical control cabinet

All oil and solder pot heating elements are external

Composite air knife/heat exchanger

Simplified efficient oil manifold

High capacity solder pump

Single solder manifold system

In-line panel aligner/rotator

Auto adjustable exit table guide mechanism

Solder pot canopy supported on slide bearings

Totally enclosed solder coating and cooling

Clean operating environment